320KW Diesel Generator Rental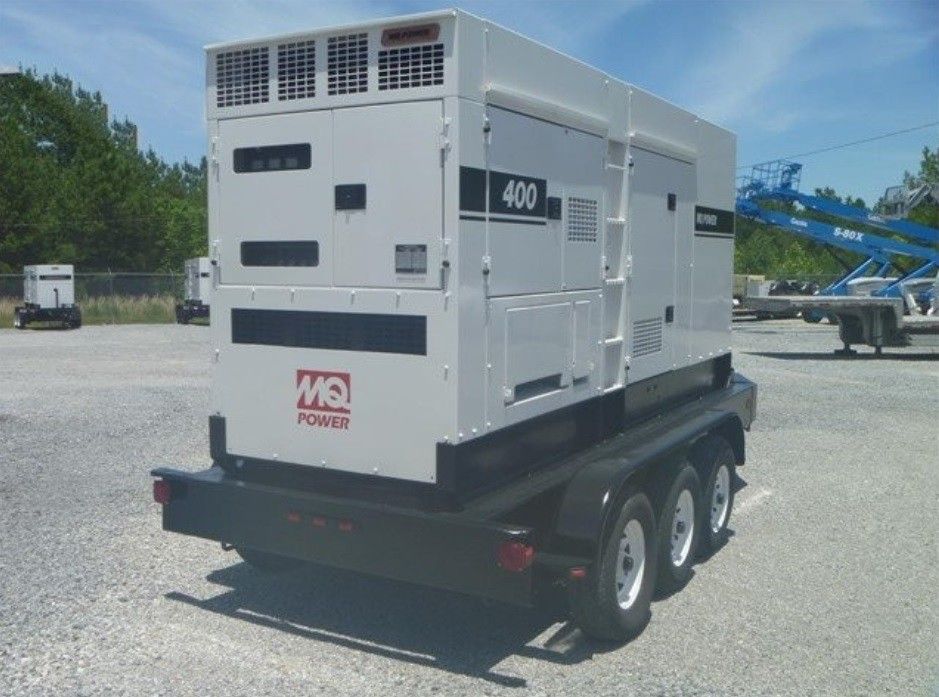 MQ Power WhisperWatt Super-Silent portable generators provide reliable power to meet the most demanding requirements. They are designed and built to withstand tough environments at construction sites and provide dependable temporary power at entertainment venues and disaster recovery operations.
The DCA400SSIU4F offers a prime rating of 320 kW (400 kVA) and a standby rating of 336 kW (420 kVA). Our patented open delta generator winding provides precise voltage control, allowing superior motor starting capability. An electronic governor maintains frequency to ±0.25% from no load to full load. Equipped with a Tier 4 Final Isuzu diesel engine to easily meet the stringent EPA standards while providing profitable performance and reliability. It features an auto start stop that allows the generator to start from a remote location. The unit features an E-coat primer with polyurethane enamel finish, weatherproof steel housing that allows a substantially low operating noise level of 69 dB(A). A comprehensive analog control panel provides instrumentation including AC ammeter, AC voltmeter, frequency meter, AC circuit breaker, engine gauges and much more.
Unit Specifications
Prime Rating
320 kW
400 kVA
Standby Rating
336 kW
420 kVA
Generator RPM
1800
Voltage – Three Phase
208, 220, 240, 416, 440, 480V Reconnectable
Voltage – Single Phase
120, 127, 139, 240, 254, 277V Adjustable
Generator Design
Revolving Field Self-Ventilated Drip-Proof Single Bearing
Voltage Regulation (No Load to Full Load)
±0.5 %
Power Factor
0.8
Armature Connection
Star with neutral
Excitation
Brushless with AVR
No. Poles
4-pole
Frequency
60 Hz
Frequency Regulation (steady state load)
±0.25 %
Sound Level (Full Load at 23 ft.)
69 dB(A)
Engine Specifications
Make/Model
Isuzu BQ-6WG1X
Emissions
Tier 4 Final
Starting System
Electric
Design
4-cycle, Water Cooled ,Direct Injection, Turbocharged, Charge Air Cooled, EGR, DOC and SCR
Gross Engine Power Output
512.3 bhp
kW
Fuel Tank Capacity
55.5 gal
210 L
Fuel Consumption:
   Full load
22.5 gph
85.1 lph
   3/4 load
17.3 gph
65.5 lph
   1/2 load
12.2 gph
46.0 lph
   1/4 load
7.7 gph
29.0 lph
DEF Tank Capacity
14.8 gal
56L
Coolant Capacity
19.4 gal
73.6 L
Oil Capacity
15 gal
57.0 L
Battery
12V 200Ah X 2 (24V System)
TRLR400XF3DA Trailer Specifications
Gross Vehicle Weight Rating (GVWR)
20,000 lb
9,072 kg
Gross Axle Weight Rating (GAWR) (ea.)
7,000 lb
3,175 kg
Coupler Rating
3″ Pintle Eye (25,000 lb)
2-5/16″ Ball Coupler (20,000 lb)
Tire Size
ST235 / 80R16 LR-E
Tire Load Rating (ea.)
3,500 lb
1,588 kg
Wheel Bolt Pattern
5 Lug
Fuel Tank Capacity
350 gal
1,325 L
Combined Tank Runtime:
50% Load
33 h
100% Load
18 h
Fits MQ Power Generator Models
DCA400SSI4F
DCA400SSI4FP
TRLR400XF3DA Dimensions & Weights
Overall Length
264 in
6,705 mm
Overall Width
94 in
2,387 mm
Overall Height
27.4 in
695.96 mm
Operating Weight
With Fuel
6,765 lb
3,071 kg
Without Fuel
4,280 lb
1,943 kg
Check out online. 100kw Diesel Generator Rental
OUR TESTIMONIALS

Allied has provided equipment and consulting support on many of our large commercial projects for hotel clients in San Francisco .
- Tim M

We have relied on allied countless times to tackle the toughest tasks.
Great resource.
- Adam R

Allied supplies us with equipment and support on all of our major disaster recovery endeavors and projects.
- Marcello