Electric Heat Drying Systems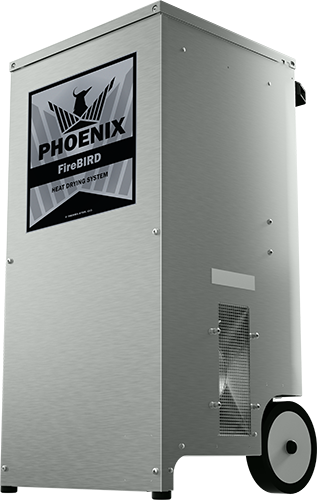 Electric Heat Drying Systems ▶
Powerful, Portable and Safe Heat
Phoenix has turned up the HEAT with our new FireBird Electric Heat Drying System. Powerful, Portable and Safe BTU's wherever you need them – the FireBird can provide up to 31,000 BTU's of instant heat to speed your drying.
At the 50-amp setting, the FireBird produces 31,000 BTU's – that's 360 CFM with an 80°F temperature rise. Imagine placing the FireBird in an area with below-freezing temperatures and instantly producing 360 CFM of air over 100 degrees. Using the 30-amp setting the FireBird produces 18,000 BTU's – providing a 46°F temperature rise. Internal temperature cutouts prevent the FireBird from overheating an area, while the FireBird's included remote thermostat provides a means to control the heat from anywhere in the drying space.
The Phoenix FireBird offers multiple heating, ducting, and electrical options for on-demand heating from inside or outside the drying space. The FireBird will operate free standing or with 12-inch flex duct on the inlet and/or outlet to distribute the heat precisely where you need it.
FireBird Specifications
Part No. 4027300
Power 30 or 50 Amp
Heat
Output 18,000 or 31,000 BTU
Blower 360 CFM
Temperature
Rise 46°F or 80°F
W x H x D 20.25″ x 40″ x 21.4″
Weight 90 Lbs.
MSRP $3,077
P
OUR TESTIMONIALS

Allied has provided equipment and consulting support on many of our large commercial projects for hotel clients in San Francisco .
- Tim M

We have relied on allied countless times to tackle the toughest tasks.
Great resource.
- Adam R

Allied supplies us with equipment and support on all of our major disaster recovery endeavors and projects.
- Marcello